Here you can download games made by AmysGames, as well as take a peek at some of the games in the works!
Newest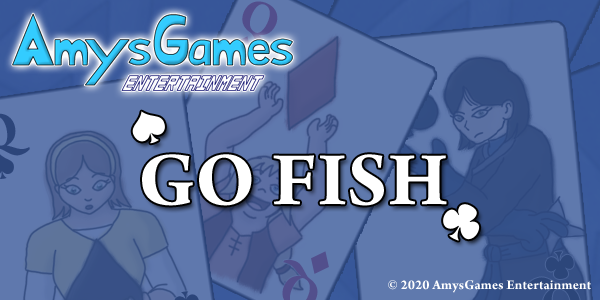 Go Fish
Because sometimes you just want to play Go Fish.
Browser-Based

A Day With RedFlash
Help A.G. keep RedFlash out of her office so she can finish her work!

Character Guessing Game
How well do YOU know the characters?

Erron's Adventure
Help Erron collect the weapons needed for Sanry's weapon shop!

Go Fish
Because sometimes you just want to play Go Fish.
Free Downloads

AmysGames Bakublock
Destroy the picture on top to reveal the picture underneath!

Super Sphere Struggle
Battle each other as BlueBounce and RedFlash! An AmysGames classic!
In Development
Aiiro No Kunoichi - The Game!
Can you help the Aiiro No Kunoichi save Japan!?

Larissa's Great Adventure
Young and adventurous Larissa finds the ancient sorceress' wand inside a cave, but little does she realize that this would change everything.

Maelman
Neither snow, nor rain, nor heat, nor gloom of night... not even a flood will stop this mailman from delivering the mail. With your help, the mailman must deliver as many letters as possible before the flood waters rise too high and prevent him from doing his job. You'd better be quick!

Mundus Concordia
Gloria Rosebloom finds herself in the mysterious land of Muilic, right in the middle of a devastating war. With no way to go home, Gloria must face a vast world of magic and danger.